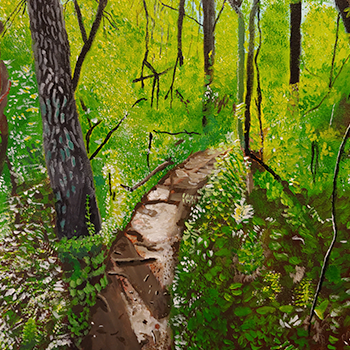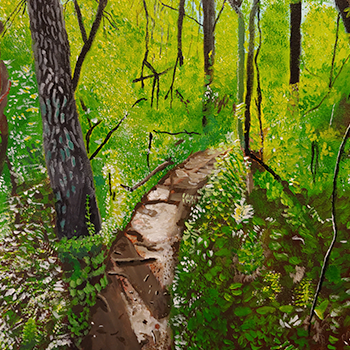 Colleen McTigue is an emerging artist living and working in St. Catharines. Primarily self-taught, she began pursuing art in March of 2018 as a way of filling time due to being on disability leave for major depressive disorder and generalized anxiety disorder. Since joining the professional arts training program at Willow Arts Community in June 2018, she has explored a number of different styles and mediums, and has increased her skill and confidence as an artist.   
Colleen McTigue's first professional artist experience came in August, 2018 when she was selected by a judging panel as one of 14 artists to participate in "PlayPlayPlayNiagaraFalls", a public art project that involved the public painting of upright pianos placed at various locations around the city of Niagara Falls.   
In December of 2018, Colleen was chosen as the Willow's first Artist in Residence, which involved being awarded three months of studio time at the Niagara Artists Centre studios during which she developed a body of work that was displayed in a two-person show in the Dennis Tourbin Members' Gallery at the NAC from August 2019. During her time in the studio, Colleen also contributed three paintings to the NAC's Small Feats exhibition, two of which were sold, and she has also subsequently sold two paintings to private collectors. 
Colleen continues to pursue her art, and an example of her work was chosen for the St. Catharines annual juried exhibition, and can be viewed on the 3rd floor of St. Catharines City Hall until March 2020.  Her art often explores LGBT issues through a social justice lens, although she also explores the beauty of nature and sometimes combines the two.