PROGRAMS
The Fall 2019 Program Guide, highlighting all of the September – November programs will be released in August. Details on how to sign up for classes to follow.
Join our Facebook Page and follow our Instagram @thewillowcommunity to view additional programs, pictures, and events happening all year-round.
UPCOMING EVENTS
Member Exhibitions

Friday July 12, 6-8pm Opening Reception / Performances
Artwork on Display from July 12-29
Mahtay Cafe
241 St Paul St, St. Catharines, ON
———-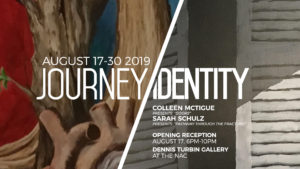 Featuring Artists in Residence Colleen Mctigue & Sarah Schulz
Saturday August 17, 6-10pm Opening Reception
Artwork on Display from August 17-30
Niagara Artist's Centre | Dennis Tourbin Gallery
354 St Paul St, St. Catharines, ON
Visit our Facebook Event Page
———-
Community/Partner Events & Exhibitions
Tuesdays, July 9, August 13, 2019
5:30 to 6:30 pm
Presented at Mahtay Café, 241 St. Paul St., St. Catharines
Facilitated by Bart Gazzola
Join us on the second Tuesday of the month for an informal discussion about art and visual culture. Based on the PechaKucha model, artists, architects, designers and other image-makers are invited to contribute to the conversation by sharing 5 images and speaking about each for 2 minutes. Show us what you're working on, what inspires you, or just come for the conversation. Everyone is welcome!
Please contact 905-684-2925 for details or to reserve your presentation date.
To keep up to date, please join the 5 x 2 group on Facebook.
———-
Historic and Exhibition Tours
Interested in learning more about the history of Rodman Hall? Looking to take a more in-depth look at Carolyn Wren's "Task at Hand" exhibition? Take a free guided tour this summer! Tours occur every Thursday at 2pm, throughout July and August. This is a great opportunity to ask questions and gain insight into the story of Rodman Hall.
Every Thursday in July and August at 2pm
Rodman Hall Art Centre
109 St. Paul Crescent
St. Catharines