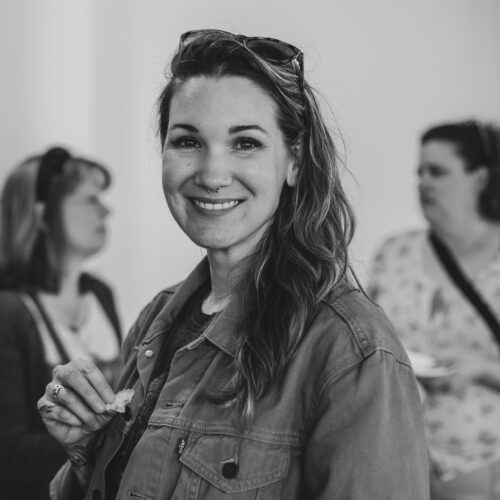 Shauna MacLeod's journey to becoming the founder and Director of Willow Arts Community is a testament to their unwavering commitment to the arts, mental health advocacy, and belief in the power of community. Shaped by growing up in rural Niagara, the arts were often a place of togetherness and celebration for their proud working class family. Dancing, singing, listening to records, song-writing, and helping to run a family martial arts dojo are particularly happy memories during a childhood marked with adversary. Shauna spent much of their youth sitting up high in a beloved willow tree on their property, seeking sanctuary and writing poetry.
As a psychiatric system survivor in their teens, and a parent by 19, Shauna spent most of adulthood navigating poverty, the mental health system, and their sexual and gender identity. Shauna graduated top of their class at Niagara College in the General Arts and Science University Transfer Program, and received the Dean's Academic Award. They fueled their passion studying History at Brock University, focusing on classes that explored classism and power dynamics, native and non-native relations, and social history. In 2010, Shauna's sibling, who struggled with substance use and mental health, passed away at a local shelter facility. This loss deeply impacted Shauna, and sparked their dedication to creating safe and accessible spaces for others seeking connection and healing. This grassroots initiative evolved into Willow Arts Community.
Shauna received community education and training from a 3-year collaboration with Workman Arts in Toronto, Art Fix in North Bay, and Mindful Makers in Thunder Bay. Shauna greatly benefited from a 4-year residency at Rodman Hall Art Centre where they worked closely with staff, and currently has mentors from arts management and non-profit and governance sectors who continue to help shape their work today. Shauna received the Jury's Pick award with the City of St. Catharines Arts Award in 2018 for the founding of Willow Arts Community, and in the same year was a GNCC Woman in Business finalist.
At the heart of Shauna's work is the power of vulnerability. Their lived experiences, marked by personal challenges and triumphs, resonates with many and draws people in with an authentic and heartfelt approach. Their commitment to reducing stigma and barriers, sharing resources and arts education, and creating a space where individuals can find healing and hope through the arts sets an inspiring example of what's possible for the Niagara region.