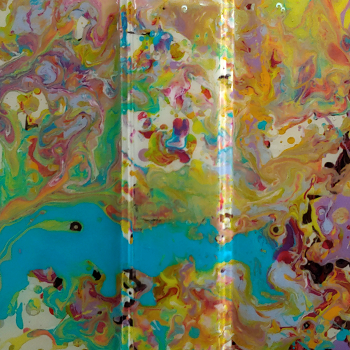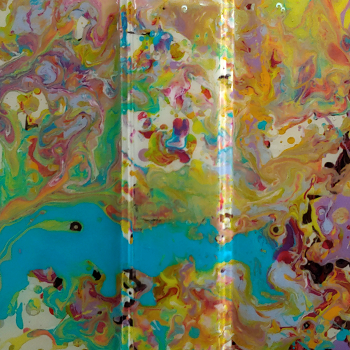 Sarah Carter was raised and resides in the Niagara Region. She is a passionate, emerging multidisciplinary artist that is always up for experimenting in new mediums. She loves vibrant color, and has been creating all her life. Sarah works with acrylic, watercolour, quilting, mixed media using upcycled materials, collage, art journaling, paper making, drawing, pottery, stained glass and fused glass. She has trained at Third Space Pottery, Niagara Pumphouse Art Centre, Rodman Hall Art Centre, and has been an active member artist of the Willow Arts Community professional arts training since 2017. 
Sarah plays an active role in the Niagara arts community, most recently as the acting Program Director for the Niagara Parkway Artists Guild as well as a member of the St Catharines Art Association. Sarah has multiple pieces displayed at the Niagara Pumphouse Art Center in Niagara-on-the-Lake and was featured at Third Space Cafe in Niagara Falls. She has exhibited work in both the Niagara Falls Library and St Catharines Library. She has shown work at the Butterfly Conservatory with the Parkway Artist Guild "Art in the Garden", as well as an installation with Heather Fraser at Niagara Falls Night of Art.
Sarah has a home-based studio where she lives with her loving and supportive husband and dogs. Sarah is a dreamer and she likes to dream big. On top of being a prolific visual artist, Sarah's other passion is community-based art installations. Her love starts with community and ways to bring everyone together through art.